Stem Cell Implantation
This particular Blog will focus on the Stem Cell Implantation Portion of your Treatment Experience
At its foundation, iOBX was created to provide remarkable and proprietary Bio-Restorative Orthopedic Stem Cell Procedures from your own body within a concierge, patient-centered experience. What this means for you is having the confidence that you are getting a state-the-art treatment that maximizes healthy, high functioning stem cells and ensures those cells are precisely placed into areas of injury and arthritis. To do this physicians at iOBx utilize advanced image guidance including the modalities of fluouroscopy, ultrasonography, and in some cases use of a needle camera. In contrast to some physicians or mid-levels who imprecisely inject stem cells into joints using a "blind" approach, physicians at iOBx have advanced fellowship training in using these modalities and utilize a variety of techniques to ensure that all areas within and outside of injured, degenerated joints/tissues can be successfully treated.
Inside our lab in our Charlotte, NC facility
Don't Believe Everything
You Hear about Stem Cells
---
Are you being treated by Board Certified Medical Physician?
Are you getting a one size fits all static stem cell procedure or dynamic approach with a real-time adaptation of cells?
Is there a processing lab on-site, and do they check their cell viability count and cell populations?
Learn more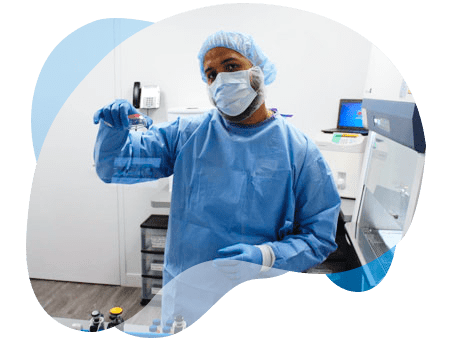 Our patients consistently find it very satisfying that they are able to see video or in some cases watch directly as their stem cells are precisely injected using Live advanced imaging.
Because not all Stem Cell treatments are created equal it is important "do your homework" to ensure that you are getting precise implantation of your stem cells into specific areas of injury and degeneration as part of your overall Stem Cell treatment.
Dmitriy d