Don't Believe Everything You Hear about Stem Cells
Are you being treated by Board Certified Medical Physician?

Are you getting a one size fits all static stem cell procedure or dynamic approach with a real-time adaptation of cells?

Is there a processing lab on-site, and do they check their cell viability count and cell populations?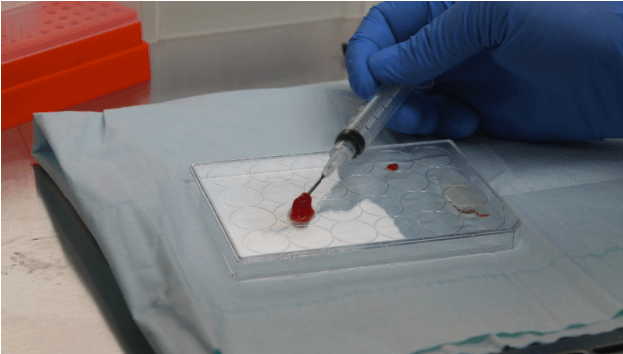 THE CONFUSION.
Amniotic fluid and placental/umbilical tissue are readily available and a promising potential source of stem cells and biological factors that have regenerative potential. However, when it comes to current preparations of amniotic fluid and placental/umbilical tissue touted by stem cell clinics, THERE ARE ONLY TWO OPTIONS! It's an illegal preparation and puts your health at risk, or it does not contain viable stem cells.
DOESN'T SOUND VERY PROMISING?
AT iOBX®, WE FOLLOW ALL FDA REGULATIONS.
iOBX® is 100% focused and dedicated to using your own body's stem cells for pain relief, restoration and healing of Orthopedic and Sports Medicine conditions. No two procedures are the same. We recognize that each patient is different. We value the ability to customize our stem cell processing procedures to meet the unique needs of each patient AND the area that we are treating.
HERE'S THE SCIENCE.
A variety of studies have shown that amniotic fluid and placental/umbilical tissue contains cells with the hallmark features of stem cells, including the potential to differentiate into other cell types. That amniotic fluid also contains soluble factors that may be important for revving up the body's regenerative response. These observations have generated much interest in the use of amniotic fluid in regenerative medicine, and exceptional work is being done to explore its true potential.
Patients and clinical professionals need to understand that current regulations do not allow umbilical tissue and amniotic fluid containing living cells used in another person. Umbilical tissue and amniotic fluid undergo extensive filtration, freezing, and even gamma irradiation steps that permanently destroys all of the cells that may have been present. So what's the result? The amniotic fluid contains some biological proteins, carbohydrates, lipids, and other molecules but lacks stem cells. Manufacturers of amniotic fluid have touted the impact of exosomes; however, these structures are poorly characterized on their effect for orthopedic conditions and highlight the potential risk of the transfer of genetic information from donor-derived tissues.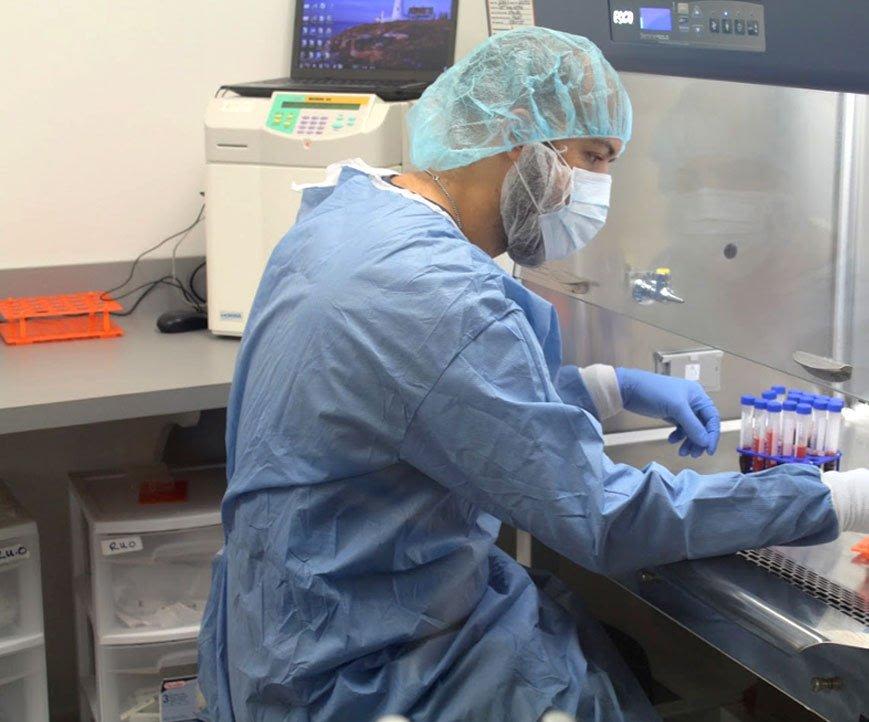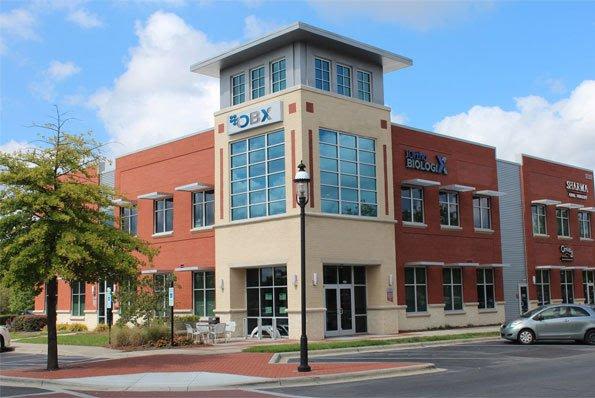 Even with these preparations, there are still concerns about the contamination of donor-derived biologics during handling. There was recently a massive recall of these products due to E. Coli bacteria contamination.
Do not fall for clinics that claim to use placenta, amniotic, umbilical stem cells.  This is consumer fraud, as there are no stem cells in these products. Even if there were stem cells, it would be illegal per the FDA because they would consider this product a drug needing FDA approval.  Using your own body's stem cells is not considered a drug by the FDA and therefore is FDA compliant and not illegal.
MAKE SURE YOU CONSIDER THE PROFOUND
DIFFERENCES OF THESE SITUATIONS!
You should also strongly consider NOT going to a clinic or center that claims to use amniotic, embryonic, or umbilical "stem cells". Not all, but many of these places are chiropractic offices that hire Physician Assistants and Nurse Practitioners to do their injections. At iOBX® you will be treated by Board Certified Medical Physicians who have over a decade of medical training and experience, much of which is in Stem Cell Orthopedics and Sports Medicine.
If a clinic were to administer amniotic fluid that does contain viable cells, then this would be illegal and they wouldn't be in business for very long.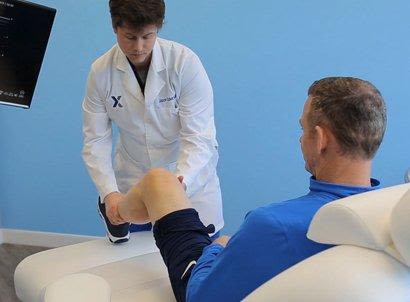 Bone marrow and
Stem cells from
your own body
Placental/Amniotic
umbilical
Fluid product
DOES THIS PRODUCT CONTAIN STEM CELLS?
Yes, many types of stem and progenitor cells have been characterized from these products
Once sterilized, these products DO NOT contain viable stem cells.
WHAT IS THE SOURCE OF THIS PRODUCT?
Your own body is the source of your stem cell treatment
Donor-derived, pooled following Cesarean section (C-section) increasing the chance of disease communication and body rejection of foreign tissue.
HOW IS THIS PRODUCT PROCESSED?
Processed under FDA compliant minimal manipulation guidelines
Undergoes extensive processing, including freezing, Gamma irradiation, and filtration.
ARE THERE PEER-REVIEWED STUDIES THAT INDICATE THE EFFECTIVENESS OF THIS BIOLOGIC PRODUCT FOR ORTHOPEDIC CONDITIONS?
There are over one hundred peer-reviewed clinical studies on safety and effectiveness.
There are no published studies to date regarding the safety and effectiveness of amniotic fluid for the treatment of orthopedic conditions.
ARE GROWTH FACTORS, ECM, EXOSOMES PRESENT IN THIS BIOLOGIC PRODUCT?
Contains factors that promote joint health
Due to extensive processing, contains a limited number of factors that may promote joint health.
What questions should i ask?

IS IT FETAL BIRTHING PRODUCTS?
Chiropractors and even some medical doctors are now running scams where they claim that fetal birth products like amniotic fluid (i.e. baby fluid/urine), placental and umbilical products contain millions of live fetal stem cells. They often promise to regrow someone a new knee or other joint and use a nurse or similar provider to inject these substances. Unfortunately, the truth is these products do not contain any living stem cells! If they did it would be considered illegal, because the FDA says you cannot use another person's stem cells for an Orthopedic problem. They tout these tissues as being better than your own body's stem cells saying they are younger and found in high quantities. There are no stem cells in these products due to the sterilization and freezing process they undergo to reduce the transmission of infection and diseases such as HIV. These products do have the potential to cause your body to react against it potentially resulting in organ failure. IF there really were fetal stem cells in these products it would also be quite dangerous in that these cells are very unpredictable in the way they act and are more dangerous than using your body's own healthy cells. Much more research is needed on using fetal stem cells in adults.

IS THE FACILITY FDA COMPLAINT?
In the USA, the only way to effectively, safely and legally perform an Orthopedic Stem Cell treatment is to use the patient's own stem cells, anything else is either illegal, consumer fraud (or both). Here at iOBX®, we strictly adhere to FDA minimal manipulation guidelines and are FDA compliant.

HOW MANY ONLINE REVIEWS DOES THE FACILITY HAVE FROM STEM CELL PATIENTS AND DO THEY HAVE PATIENTS THEY HAVE TREATED WHO YOU CAN TALK WITH?
Read our reviews

DOES THE FACILITY COUNT THEIR CELLS AND CHECK VIABILITY COUNTS?
We utilize advanced imaging technology to harvest and implant your cells, and we manually process (in our Advanced Stem Cell Lab) your tissue using our proprietary processing protocols. We have perfected the harvesting process to maximize the stem cell yield from your own body's tissue. Whether you are 15 or 90 years old, we exponentially maximize your stem cell numbers (while simultaneously purifying the final product), using our cutting edge harvesting techniques (from your bone marrow and/or fat tissue), and proprietary processing protocols. We count our cells to ensure a highly-concentrated sample, and complete testing to ensure that these cells are also alive, viable and ready to work (see below). We DO NOT use amniotic, umbilical or embryonic fluid (baby fluid) which contains dead, non-viable cells. There was recently a large recall of these products due to E. Coli bacteria contamination [READ MORE]. This is one of the many reasons that we only use stem cells harvested from your own body. We count our cells and therefore know that we are harvesting extremely high quantities of stem cells – exponentially more than average. Think about it like baking a cake. No matter how good the oven is (analogous to our advanced onsite Orthopedics BIOLOGIX lab), if you don't start out with the right ingredients, and if those ingredients aren't in the correct ratios, why would you expect to get a high quality cake? If you consult with anyone else about stem cells, we would encourage you to ask them if they are counting their cells, and furthermore – if they are determining the cell viability and apoptotic counts.

WHAT TECHNOLOGY DOES THE FACILITY USE TO INJECT THE STEM CELLS AND WHAT TRAINING AND CERTIFICATION DO THEY HAVE USING THIS TECHNOLOGY?
We have cutting edge imaging technology that allows us to precisely implant your stem cells within a millimeter of the torn, arthritic and/or diseased area. If your stem cells aren't put in exactly the right location(s), the likelihood of treatment success is significantly reduced. Our Board Certified Orthopedic Stem Cell Physicians, have special training and certification in these technologies, which include Orthopedic Ultrasound, Fluoroscopy (Live X-ray) and the Micro-Camera "Mini-Scope".
TO REQUEST MORE INFORMATION
For any inquiries or to request an information packet to be
mailed to you, please call our office or fill out the following form.
TO CONTACT OR VISIT OUR CENTER


Phone: 980.859.2340

Fax: 844.830.8115