Stem cell iOBX™ specializes in advanced stem cell treatments and has a 90%+ success rate treating acute pain as well as chronic pain and arthritis by transferring "stem cells" from your own bone marrow and/or body fat to an area where you're experiencing pain. iOBX's founder and medical director, Dr. Jason Tucker is Board Certified in Orthopedic Medicine and has additional specialized training in Sports Medicine, Interventional Spine, and Stem Cell treatments. He earned his MD degree at Marshall University. He underwent an Orthopedic Surgery internship at the University of Tennessee and completed his residency at Virginia Commonwealth University Med Center and has completed further fellowship training at the highly respected Bodor Clinic in California, Thomas Jefferson University and Pro-Scan Imaging. Content within release has not been evaluated by the FDA. iOBX is fully FDA compliant, but Orthopedic stem cell treatments are considered investigational by the FDA. You can learn more at: https://iOBX.com or by calling their Center at (980) 859-2340.
iOBX™ Stem Cell Treatment, Sports Medicine Physician, Charlotte
MERRIL HOGE
FORMER NFL STAR
ESPN ANALYST
JASON D. TUCKER
iOBX® STEM CELL PHYSICIAN
MD, FABPMR, RMSK

YOUR ALTERNATIVE TO SURGERYSTEM CELL TREATMENTS FOR ARTHRITIS & INJURIES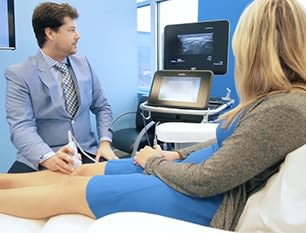 STEP 1

CONSULTATION

Our patients meet directly with one of our board certified, advance fellowship trained physicians for 90 minutes and includes collecting in-depth medical history, comprehensive examination, ultrasound and treatment recommendations.
STEP 2

HARVESTING

We are harvesting extremely high quantities of stem cells – 200-300% more than average. If you consult with anyone else about stem cells, we would encourage you to ask them if they are counting their cells, and furthermore – if they are determining the cell viability and apoptotic counts.
STEP 3

PROCESSING

In our advanced, BIOLOGIX lab, we concentrate and manually process your stem cells that have just been harvested. Many clinics advertise "amniotic stem cells" as live, viable cells when in fact, they are not. We ensure cells are alive and viable, formulating and customizing them for your treatment.
STEP 4

IMPLANTATION

Doctors use image guided precision to implant the processed cells to the site of the pain, arthritis and/or tearing. Our technique is so accurate that we implant within a millimeter from the damaged tissue.
STEP 5

POST-PROCEDURE

Bio-restorative procedures have significantly less downtime than surgically invasive procedures. Our process is more efficient and more effective, allowing our clients to heal faster.
CLASS FACILITY
iOBX® team is passionate about delivering the highest quality of care possible before, during and after your procedure.
JOIN US FOR OUR SEMINARS & LEARN MORE ABOUT STEM CELL TREATMENTS.
03/26/20 6 PM - 7:30 PM
Am I a Candidate?
WHERE IS YOUR PAIN?
EXPLORE THE CONDITIONS AND AREAS THAT iOBX® SPECIALIZES
IN TREATING USING STEM CELLS FROM YOUR OWN BODY.
TREATMENT AREAS

Jeri
I came to iOBX® with pain in my elbow. I couldn't work out at the gym or do my daily activities without pain that limited by quality of life. I had Bio-Restorative treatment done using by own body's cells and have been very pleased with results. I am now back at the gym and not inhibited by my elbow pain. I would highly recommend iOBX® for a natural, effective approach to healing and pain relief.

Ace
Being a NFL running back for a decade took a toll on my body. Going on 2 and a half years ago I underwent Stem Cell treatment with iOBX® for both knees and I couldn't be more happy with the results. I had cartilage loss, torn meniscus, loose ligaments, swelling and 10/10 pain especially in my left knee. Now I have virtually no problems with either knee and couldn't be more pleased...

Chas
They helped me with a severely arthritic great-toe joint. Their treatment combined with the therapy they recommended at the PT Center has enabled me to go from walking awkwardly to getting back into jogging. A professional, caring, and helpful approach to health care.
TO REQUEST MORE INFORMATION
For any inquiries or to request an information packet to be
mailed to you, please call our office or fill out the following form.
TO CONTACT OR VISIT OUR CENTER


Phone: 980.859.2340

Fax: 844.830.8115