A PROVEN ALTERNATIVE:  NON-SURGICAL STEM CELL PROCEDURE KNEE PCL TEARS & INJURIES
Traditionally, the only treatment for those left with an unstable, painful knee after a Knee PCL Tears has been a major surgical reconstruction. Now, there is a viable alternative option for patients who have Knee PCL Tears, including a complete/full-thickness tears. The treatment utilizes your body's own stem cells and other healing mediators called Autologous Stem Cell Treatment.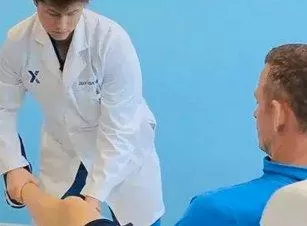 Knee PCL Tears Stem Cell Treatment
Downfalls of PCL surgery
Non-Surgical Stem Cell Procedure Knee PCL Tears & Injuries

iOBX Non-Surgical Knee PCL Tears
A Bio-Restorative Stem Cell procedure for a Knee PCL Tears
A Bio-Restorative Stem Cell procedure for a Knee PCL Tears is an ultra-minimally invasive same-day injection procedure designed to alleviate pain, improve function, and improve stability of the knee. In addition to being less invasive than surgery, the procedure conveys less risk of complications and in many cases less downtime. Though it is not covered by insurance carriers, out of pocket costs for this procedure are often comparable to knee surgery when considering copayments and loss productivity associated with surgery.
WHY CHOOSE iOBX™ FOR YOUR KNEE PCL TEARS TREATMENT
iOBX™ Non-Surgical Knee PCL Tears Repair-Precision Guided Direct Visualization Stem Cell Treatment
Weekend warriors, high school, college and professional athletes come from national and international locations to undergo the revolutionary iOBX™ Stem Cell Repair procedure using our proprietary "Tri-Fecta" technique which includes (micro-camera direction visualization, live X-ray and Ultrasound) technology to ensure there is ultra-precision guidance and reliability of your Stem Cells into the Knee PCL Tears. At its foundation, iOBX was created to provide cutting-edge, remarkable Bio-Restorative Orthopedic Stem Cell Procedures within a concierge, patient-centered experience. The Board-Certified Physicians, at iOBX are extremely experienced in successfully treating PCL injuries and have devoted their careers toward treating Orthopedic conditions using Stem Cells from the patients' own body. We are 100% dedicated to Orthopedic Stem Cell Treatments (You probably wouldn't go to a part-time brain surgeon, so why would you go to part-time Stem Cell doctor or even worse a Physician Assistant or Nurse Practitioner). iOBX™ Physicians have extensive experience in precisely implanting injured PCL ligaments using precision-guided imaging (fluoroscopy and ultrasound). Our amazing physicians always make sure to put the patient's needs first in a complete patient-centered process, that includes concierge in-depth consultation with a medical doctor, and continuous check-ups even after the treatment. Schedule a consult for your Knee PCL Tears treatment
Don't Believe Everything
You Hear about Stem Cells
---
Are you being treated by Board Certified Medical Physician?
Are you getting a one size fits all static stem cell procedure or dynamic approach with a real-time adaptation of cells?
Is there a processing lab on-site, and do they check their cell viability count and cell populations?
Learn more
Countless independent 5-star reviews
Reviews Directly From Google.com

Micheal
My 14yo son had a significant tear of his meniscus (multiple locations) from wrestling. Everything from consult through treatment was fantastic. Today he is pain free, has full range of motion and has completed and passed all physical requirements to be released back into sports. I am beyond happy that we chose stem cell treatments over traditional arthroscopic surgery where they would have removed part of his meniscus virtually guaranteeing an arthritic knee in the future.