Shoulder Arthritis?
Avoid Surgery! Natural Process.
Quick Recovery. Shoulder Arthritis Stem Cell Treatments!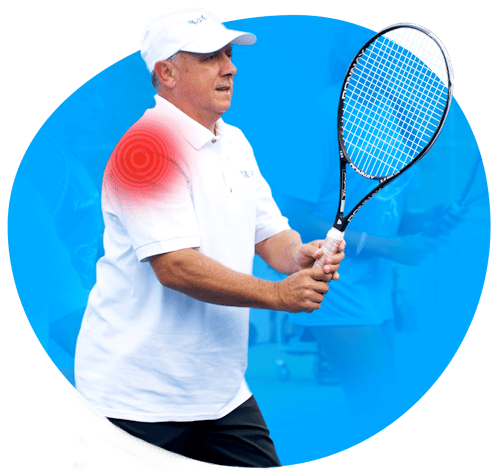 What is Shoulder Arthritis?
Shoulder Arthritis is both common and debilitating. There are many factors both genetic and environmental that contribute to the disease process. In many cases, patients may have a predisposing shoulder injury and/or loose ligaments around the shoulder joint leading to abnormal alignment an accelerated breakdown. Loss of cartilage, inflammation, bone spurs and bruising of the bone are frequent findings in Shoulder Arthritis. Often overlooked, the shoulder joint environment that surrounds all of the shoulder joint tissues becomes "catabolic" meaning that it contains an increased level of destructive enzymes that destroy the shoulder joint over time. As the arthritic process continues it is not uncommon to have worn down or tear as Shoulder Arthritis progresses. In more severe cases, the bones can "bruise" around the joint and these bruises can become very painful and sometimes need to be treated as well.
To begin your journey to healing your shoulder arthritis, please give us a call or email us today at 980-859-2340 or [email protected] to schedule a comprehensive evaluation of your shoulder arthritis with one of our Board Certified, Fellowship trained Orthopedic and Bio-Restorative Medicine Physicians.
A Proven Alternative: Bio-Restorative Non-Surgical Stem Cell Procedure for Shoulder Arthritis (Including "Bone on Bone")
Traditionally, the only treatment for those with advanced shoulder arthritis was shoulder amputation/replacement surgery as described above. Now, there is a viable alternative option for you. The treatment utilizes your body's own stem cells and other healing mediators called Autologous Stem Cell Treatment.
A Bio-Restorative Stem Cell Procedure for shoulder arthritis is an ultra-minimally invasive same-day non-surgical procedure designed to alleviate pain, improve function, aid in healing, restoration, and joint preservation. In addition to being less invasive than surgery, the procedure conveys less risk of complications and much less downtime and pain following the treatment.
Though it is not covered by insurance carriers, out of pocket costs for this procedure are often comparable to shoulder replacement surgery when considering copayments and lost productivity associated with surgery. Most importantly, this joint preserving procedure allows you to keep your own shoulder joint rather than cut it out and replace it with metal.
In other words, the Stem Cells from your own body harness your own body's healing capability to naturally restore, reduce pain and get you back to doing the things you love.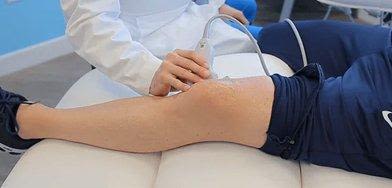 Shoulder Replacement Surgery is an Invasive, Risky Painful, Unreliable Surgery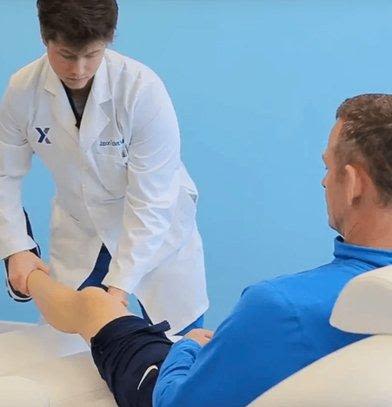 Shoulder joint replacement surgery is an invasive procedure. It is more accurately described as a shoulder amputation because the ends of your shoulder bones are cut, removed and an artificial metal and plastic prosthesis replaces your original bone. Though often considered the gold-standard for shoulder arthritis the surgery has major flaws and deficiencies.
• It is not reliable for eliminating pain
• In almost 50% of people, the replacement wears out within less than 10 years
• Shoulder replacement is permanent if it is not effective there are then NO options, including stem cell treatment.
• Risks and complications are serious and significant and include heart attack, stroke, major infection, blood clot, cancer, pneumonia, major nerve injury, and death.
With all these flaws, wonder why ACL Surgery Reconstruction is so popular?  Read link:  NY TIMES ARTICLE
WHY iOBX® FOR YOUR SHOULDER ARTHRITIS TREATMENT?
At its foundation, iOBX
®
was created to provide cutting-edge, remarkable Bio-Restorative Orthopedic Stem Cell Procedures within a concierge, patient-centered experience. The Board-Certified Physicians, at
iOBX®
are extremely experienced in successfully treating Shoulder Arthritis tears and have devoted their careers toward treating Orthopedic conditions using Stem Cells from the patients' own body. We are 100% dedicated to Orthopedic Stem Cell Treatments (You probably wouldn't go to a part-time brain surgeon, So why would you go to part-time Stem Cell doctor or even worse a mid-level Physician Assistant or Nurse Practitioner).
iOBX™
Physicians have extensive experience in precisely implanting torn shoulder arthritis tears using cutting-edge precision-guided imaging technology. Our amazing physicians always make sure to put the patient's needs first in a complete patient-centered process, that includes concierge in-depth consultation with a medical doctor, and continuous check-ups even after the treatment. The wonderful work of our team is reflected in all our independent 5-star reviews.
Stem Cell Shoulder Implantation
Actual iOBX® Shoulder Arthritis Patient
Countless independent 5-star reviews
Reviews Directly From Google.com

Tony
I am sitting here on a rainy fall afternoon after having done chores all morning, and my shoulder doesn't ache or throb. In fact, it just feels super normal. Six months ago, I could not have said that. Is it perfect, no. There is still more strengthening needed, and I have to do my daily stretching, but I can do anything I was doing 3 years ago before I injured it. The staff was especially... [Read More]

Brandon
My experience at iOBX® couldn't have went better. I had both shoulders treated 3 months apart. The facility is top notch and everyone is always very helpful. I did my initial consult by phone which was very convenient since I live 3 hours from Charlotte. I met Dr Tucker 2 weeks later at which time I was given a thorough exam and was introduced to his staff. We discussed all options and I was... [Read More]

Elizabeth
I had a Stem Cell procedure done on my shoulder using a combination of bone marrow and adipose (Elite Stem Restore). The entire procedure/process, from when I walked in the door to the weeks following the procedure, went exactly as the folks at iOBX® described it would. I had no post-procedure issues at all and feel like I'm making improvements every day. I can't even imagine... [Read More]
Don't Believe Everything
You Hear about Stem Cells
---
Are you being treated by Board Certified Medical Physician?
Are you getting a one size fits all static stem cell procedure or dynamic approach with a real-time adaptation of cells?
Is there a processing lab on-site, and do they check their cell viability count and cell populations?
Learn more
Proprietary 3-step process using your body

Unlike many facilities that use non-living/dead, potentially contaminated amniotic/umbilical/placental stem cell products, we collect stem cells from one's own body and analyze preparations for quantity and viability to ensure that we are consistently delivering a high-quality restorative stem cell treatment of arthritic shoulder.
Harvesting of your body's bone marrow and fat tissue using cutting-edge techniques allows for the collection of 200-300% more stem cells vs using lesser, "easier" techniques in harvesting those cells. To learn more about our harvesting process

Within our Advanced Onsite Orthopedic Laboratory your tissue is safely and manually processed using proprietary, FDA compliant protocols to optimize final bone marrow and/or fat stem cell and bone marrow PRP formulations dependent on the areas we are treating. Our ability to flexibility process your tissue to achieve extremely high quantities of your own body's stem cells for the condition we are treating you for is critically important, as is our ability to count and analyze the viability of these cells. This is extremely critical for Shoulder Arthritis because will only hold a small volume

At iOBX® we have the ability to DIRECTLY VISUALIZE the implantation of your own Stem Cells directly to abnormal or torn parts of the Shoulder Arthritis. Precision placement of your body's own ultra-concentrated, purified Stem Cells is crucial to a successful outcome.
Along with a meticulous pre-treatment evaluation process and post-procedural rehabilitation course, this is the reason why more than 90% of our Shoulder Arthritis patients are satisfied with their results.