CHANGING HOW ARTHRITIS, INJURIES & PAIN IS TREATED
PROCEDURES DESIGNED TO RELIEVE PAIN & HEAL, NATURALLY.
Acute and Chronic Pain such as Arthritis, Ligament and Tendon injury can be debilitating. Unfortunately, finding the right doctor and getting the right treatment to help heal can be challenging. At iOrthoBIOLOGIX, we specialize in providing Advanced Orthopedic Stem Cell treatments of the highest quality. Unlike most traditional treatments that serve as a band-aid, our advanced stem cell treatments are designed to provide extended pain relief as well as long-term healing. Our procedures are considered non-surgical and ultra-minimally invasive which means much less downtown and less risk compared to surgery. Below is an example of how our advanced knee stem cell procedure stacks up against joint replacement surgery.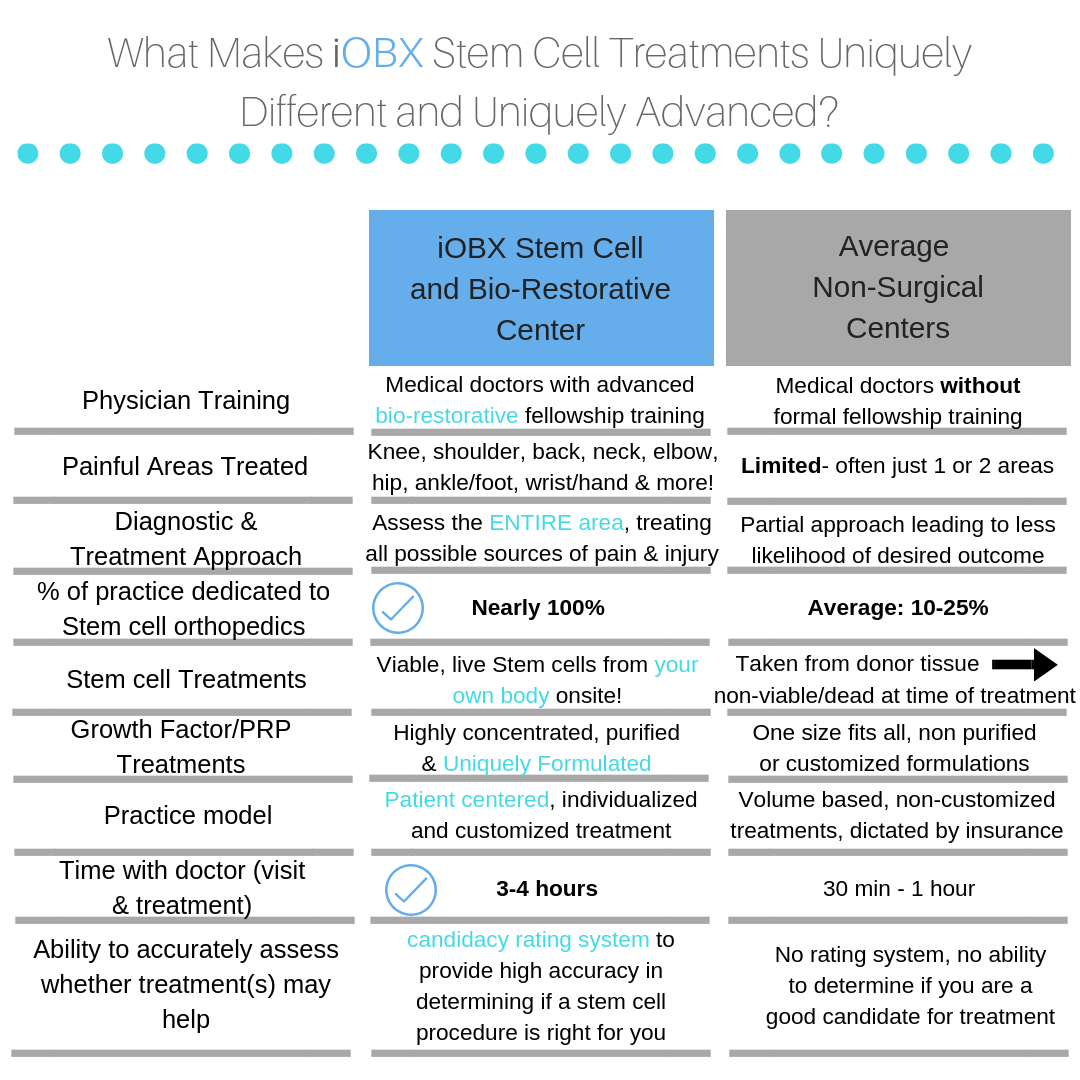 We are unlike any non-surgical orthopedics center that you will find. How are we different? Unique to Charlotte and the surrounding region, we are the only medical group offering advanced Stem cell procedures in which Live and Viable Stem Cells are taken from your own body, purified, concentrated in a fashion is customized to your unique biological make-up and then used for the purposes of pain relief and healing. Our same-day procedures are designed to use your body's own healthy, living Stem cells for pain relief and tissue healing.
​Those with less experience in gathering your own stem cells typically rely on using tissue cells from an unknown donor-often from placenta or amnion. Not only are these cells foreign to your own body, the "stem cells" within are not viable/dead at the time they are injected into you for treatment. This is problematic to say the least. We invite you to see our comparison below to learn more about how iOrthoBIOLOGIX is unlike any other non-surgical orthopedic practices you may have seen.
At iOrthoBIOLOGIX, all of our patients are offered a comprehensive evaluation. This comprehensive evaluation allows our fellowship trained physicians to spend the valuable time needed to pin-point the source(s) of your pain and offer customized treatment options that may be right for you. Don't settle for second best; start your journey of healing and getting back to a life of wellness with iOrthoBIOLOGIX. To schedule a comprehensive evaluation or learn more by attending one of our catered, onsite educational seminars, we invite you to call our office at 980-859-2340.