Shoulder Labral Tear Stem Cell Treatment
Natural Process. Quick Recovery. Shoulder Labral Tear Treatments!
The phenomenon of a Shoulder Labral Tear
The labrum of the shoulder is a fibrocartilage structure that works as a glove to help hold and support the arm bone (humerus) into the shoulder socket. A Shoulder Labral Tear can result in recurrent deep shoulder pain in addition to micro-instability and inflammation that contributes to shoulder arthritis. Often overlooked, the shoulder joint environment surrounding the labrum can become "catabolic" with a labral tear meaning that it contains an increased level of destructive enzymes that destroy the shoulder joint over time when left untreated.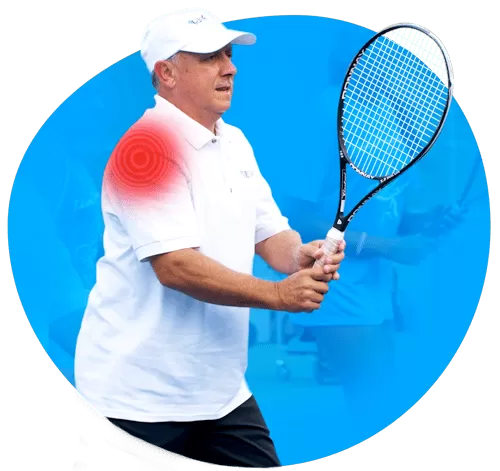 Downfalls of shoulder labral surgery
Shoulder Labral Tear surgery is an invasive procedure that involves cutting, shaving (debriding) the torn labral tear. It makes intuitive sense, and there is evidence to support, that removing tissue within the joint like the labrum causes further arthritis to the shoulder joint in years to come. Complicating factors include prolonged downtime, hardware misalignment and risks such as infection, frozen shoulder, pneumonia, stroke, and heart attack.

A Bio-Restorative Stem Cell procedure for shoulder labral tear
Traditionally, the only treatment for those with shoulder labral tear was band-aid medications, injections, or an invasive shoulder surgery in which the torn labrum is cut, shaved, debrided and taken out. A Bio-Restorative Stem Cell procedure for those with a shoulder labral tear is an ultra-minimally invasive same-day injection procedure designed to alleviate pain, improve function, and slow shoulder joint degeneration with an aim at joint preservation. In addition to being less invasive than surgery, the procedure conveys less risk of complications and in many cases less downtime. Though it is not covered by insurance carriers, out of pocket costs for this procedure are often comparable to shoulder replacement surgery when considering copayments and loss productivity associated with surgery. Most importantly, this joint preserving procedure allows you to keep your own hip labrum tissue rather than having it shaved down or cut out. In other words, the Stem Cells from your own body harness your own body's healing capability to naturally restore, reduce pain and get you back to doing the things you love.
WHY CHOOSE iOBX™ FOR YOUR SHOULDER LABRAL TEAR TREATMENT
At its foundation, iOBX™ was created to provide advanced high-quality bio-restorative stem cell procedures and a concierge, patient-centered experience. The Board-Certified Physicians at iOBX™ are extremely experienced in successfully treating labral tears of the shoulder and have devoted their careers toward treating Orthopedic conditions using Stem Cells from the patients' own body. We are 100% dedicated to Orthopedic Stem Cell Treatments (you probably wouldn't go to a part-time brain surgeon, so why would you go to part-time Stem Cell doctor or even worse a mid-level Physician Assistant or Nurse Practitioner). iOBX™ Physicians have extensive experience in precisely implanting your own Stem Cells into your labral tear and nearby supporting shoulder structures using cutting-edge, precision-guided imaging technology. Our amazing physicians always make sure to put the patient's needs first in a complete patient-centered process, that includes concierge in-depth consultation with a medical doctor, and continuous check-ups even after the treatment. The wonderful work of our team is reflected in all our independent 5-star reviews
Don't Believe Everything
You Hear about Stem Cells
---
Are you being treated by Board Certified Medical Physician?
Are you getting a one size fits all static stem cell procedure or dynamic approach with a real-time adaptation of cells?
Is there a processing lab on-site, and do they check their cell viability count and cell populations?
Learn more


Bruce
"Before going to iOBX®, I had previously had surgery for a torn rotator cuff in my right shoulder which was successful, but when I tore the rotator cuff in my left shoulder, I was looking for something much less invasive with much less recovery time. I had a torn rotator cuff and bicep tendon. The pain was a 7/10 and I wasn't able to work out the way I wanted to... [Read More]


Deloris
My name is Deloris Sanders Mungo, a lifelong resident of Columbia, SC. I am 66 years young. About a year and a half ago, I fell down a steep incline and VERY badly tore my rotator cuff and also my bicep tendon. The pain progressed tremendously over time - I tried to make myself think that it would get better - but it only got worse. I could not sleep or hold my grandchildren or walk my dogs... [Read More]


Tony
I am sitting here on a rainy fall afternoon after having done chores all morning, and my shoulder doesn't ache or throb. In fact, it just feels super normal. Six months ago, I could not have said that. Is it perfect, no. There is still more strengthening needed, and I have to do my daily stretching, but I can do anything I was doing 3 years ago before I injured it. The staff was especially... [Read More]