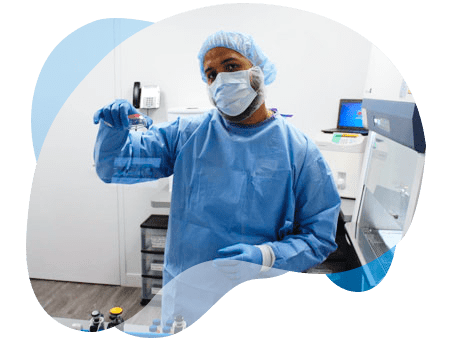 This Blog series will take you through the amazing iOBX Experience and help answer the most important question: Why choose iOBX in your journey of getting your life back from continual pain.
iOBX has built its credibility not only through its tremendous success rate but also the amazing Experience one goes through during the process. Just imagine getting back to your desired activity levels but without the pain, risks, arduous recovery and unreliability of Orthopedic Surgery. This is frequently possible through the work of our Board-Certified Physicians who are 100% dedicated to using your own body's Stem Cells to treat your Orthopedic, Sports Medicine or Spine issue(s).
The iOBX Experience strives to deliver world class treatment from first call to final recovery. iOBX prides itself in treating every client as they would their own family.
1st All potential patients are offered 3 complimentary channels to get more information through
Catered monthly Seminar: 1.5 hours of learning and interaction with our Medical Director and an unique "behind the scenes" tour of our State of the Art Facility.
20 min onsite "pre"-consultation with our highly knowledge Physician Assistant (PA) to learn more and also have the opportunity to see our state of the art facility
10 min "pre-consult" phone call with our PA – We would love to have you visit us but just in case you can't, we offer this 10 min phone call to learn more. This is particularly popular with our Out of Town patients.
2nd an in-depth 1.5 hours comprehensive evaluation with one of our Board-Certified Orthopedic Stem Cell Physicians who have devoted their career toward Orthopedic Stem Cell treatments.
3rd Pre-Treatment appointment. We spend the extra hours to make sure you and your family/friends are thoroughly prepared for your treatment.
4thTHE TREATMENT: The treatment day is all about you. We try to make the treatment day as easy as can be for you. This is a Same Day remarkable and proprietary 3 step process using our body's Own stem cells. This is because amniotic and umbilical products contain only dead cells.
5th Post treatment Care: It doesn't stop after treatment, the post-treatment rehabilitation process is also important as is bracing and other ancillary modalities which we oversee.
Don't Believe Everything
You Hear about Stem Cells
---
Are you being treated by Board Certified Medical Physician?
Are you getting a one size fits all static stem cell procedure or dynamic approach with a real-time adaptation of cells?
Is there a processing lab on-site, and do they check their cell viability count and cell populations?
Learn more
Matt Hagens